High Efficiency High Frequency Automatic Wood Vacuum Dryer
High frequency wood vacuum dryer can make full automatic control of the wood drying process, truly achieve "Unattended". It provides a variety of drying process options, and multiple sensor monitoring devices to ensure the quality of wood drying. Also, have an intuitive operation interface, support remote assistance, and realize remote maintenance and system upgrade. (Optional)
The product has approval by CE certification, has 3 utility model patent certificates, and 2 invention patent certificates.
JYC

China

40 Days

200 Set per year
High Efficiency High Frequency Automatic Wood Vacuum Dryer
Details
High Frequency(Radio Frequency) Wood Vacuum Dryer can high efficiently dry wood to reduce the moisture content of wood by high frequency vacuum heating system. Not only eliminates internal stress, but also balances the moisture of timber, with no cracks, and no deform. It can ensure the wood has good condition and quality after drying, whatever wood veneer or thick/large wooden board.

Features
1. High efficiency: high frequency heating, heating inside and outside at the same time, uniform heating, fast speed.
2. Stable quality: quickly dehydrate under vacuum and low temperature. The moisture content of the wood can be balanced and the wood can be dried with no deformation, no discoloration, and no cracks.
3. Eliminates internal stress of wood, good condition to next procession.
4. Versatility: The drying process can be adjusted according to the thickness, density, and moisture content of the wood, which is suitable for drying all wood.
5. Full automatic control, intelligent operating system, easy to operate.
6. Sterilization: It has insecticidal and sterilization functions.
7. Environmental protection: No need for chemical additives. Only need electric power can be used.
8. Energy saving: JYC's Self-developed system saves more energy compared with other brands of machines.
9. Adopt multiple temperature sensing and monitoring devices such as optical fiber to ensure drying quality and equipment stability.
10. The machines have high-quality production with stainless steel tanks and brand spare parts. (Siemens PLC, Schneider electrical components)
11. Support remote assistance, realize remote maintenance, and system upgrade.
12. We offer many capacities for choosing and customizing. 1 CBM and larger capacity, please click here.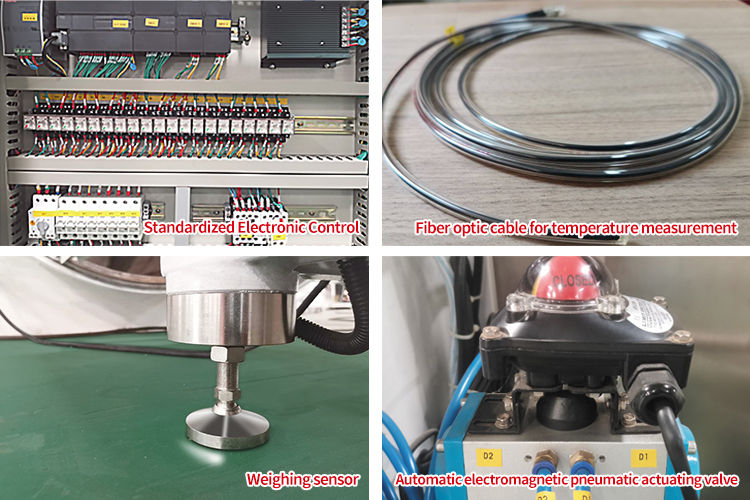 Technical Specification
Model

GJG-1II-10(15)B-JY

GJG-3II-10(20)B-JY

GJG-4II-20(30)B-JY

GJG-5II-20(30)B-JY

GJG-6II-20(30)B-JY

Capability(m³)

1

3

4

5

6

Power Supply

AC 380V,50Hz

HF Power

10/15KW

10/20KW

20/30KW

20/30KW

20/30KW

HF Frequency

6.78MHz/13.56MHz

Vacuum

-0.092MPa

Effective drying size(L*W*H)

2100mm*700mm*700mm

3000mm*1000mm*1000mm

4000mm*1000mm*1000mm

3000mm*1300mm*1300mm

6000mm*1000mm*1000mm
We can provide professional suggestions and customized services. Welcome to inquiry!
Get the latest price? We'll respond as soon as possible(within 12 hours)