High Efficiency High Frequency Plywood Bending Press
Get the latest price? We'll respond as soon as possible(within 12 hours)
Information
Product Description
High Efficiency High Frequency Plywood Bending Press
Details
High Frequency Curved Plywood Press(One Direction) can high efficiency produce a variety of plywood (MDF) components in office furniture, school furniture, home furniture, and musical instrument, such as curved plywood chair seats and backs, sofa armrest, tea table, bed slats, curved wall corner panel, cabinet door, guitar, violin, etc.

Features
1. High-frequency heating at the same time inside and outside, the glue is quickly curing.
2. High finalize degree and does not rebound.
3. Low cost of wooden molds, low heat loss, easy to replace.
4. Double output, increase efficiency.
5. One drives two, one for work and one for material preparation, higher efficiency.
6. Energy saving and environmental protection.
7. With the protection grid, safety works.
8. With approval by CE certification, Electromagnetic radiation monitoring report of national authority, high frequency no hurt to the human body.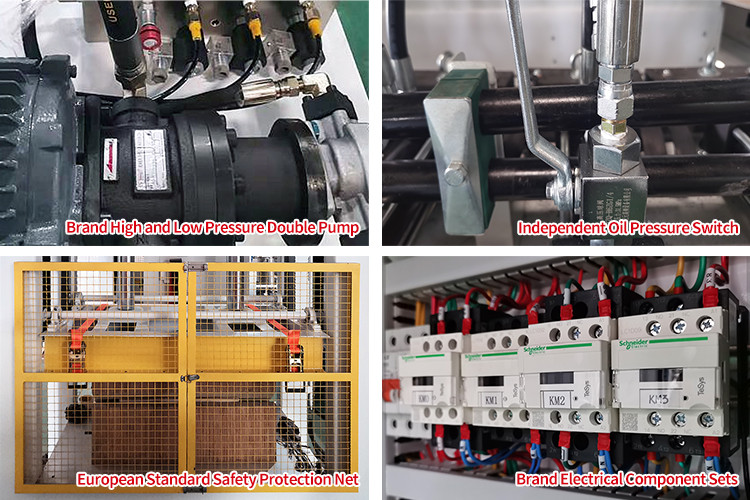 Technical Specification
Model

GJQ1206-Y60(80)-JY

GJQ1508-Y80(100)-JY

GJQ2010-Y100(120)-JY

GJQ2513-Y120(160)-JY

Power Supply

AC 380V,50Hz

HF Power

20/30KW

20/30KW

20/30KW

30/50KW

HF Frequency


6.78MHz/13.56MHz

Working Table Size


1200mm*600mm

1500mm*800mm

2000mm*1000mm

2500mm*1250mm

Max Pressure

60/80T

80/100T

100/120T

120/160T

Output Mode

Single/Double output
We can provide professional suggestions and customized services. Welcome to inquiry!
One direction high frequency plywood bending press will apply one-way pressure to bend the material. It is suitable for making simple curved shaped components. Such as chair seats and backs, wave shape components and etc.